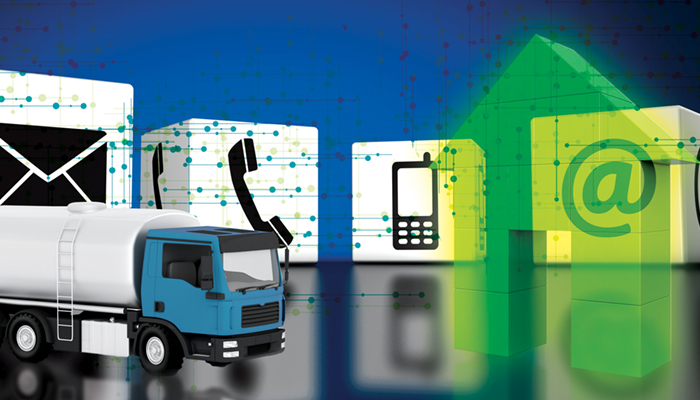 By: Richard Rutigliano, PriMedia Inc.
Many fuel delivery companies are locked in vigorous, competitive struggles for market share, and they need to leverage every advantage available to them. In the realms of retail heating oil and propane delivery, companies can gain an edge by projecting a stronger image that is infused with convenience and value.
Every consumer makes individual choices about their fuel delivery based on their personal priorities. Some consumers value the product price above all else, while others are balancing multiple considerations that might include price, convenience, quality, reputation, the environment, equipment service and more.
Price shoppers are a challenging segment of the buying population. Competition for their business is fierce, and many discounters are operating close to the bone. Companies that pursue those customers can boost market share with superior online marketing and convenience. Aggressive use of pay-per-click advertising can improve visibility, and easy online ordering can tempt customers to make a choice and place an order.
Every fuel company should use smart, creative messaging to communicate their value proposition, even if they are a COD company. A discounter doesn't need an elaborate website, but they should have an attractive one that projects an image of professionalism and reliability. The website copy should express the value proposition succinctly and smartly.
Price shoppers are not a monolithic group focused only on the number. If they were all focused only on the price, every company except the one with the lowest price would struggle to survive. Factors such as convenience, equipment service, integrity and reputation can all factor in, so it makes sense for discount providers to invest in websites that reflect well on them. Provide access to customer reviews, and encourage feedback. Include a business description that highlights the company's experience, any equipment service options and the ease of use.
Price sensitivity is also a major factor in the full-service realm. Companies can capture larger shares of the medium-price market by developing strong messaging that clearly expresses their value proposition. Pay-per-click advertising is a great medium for companies that are adept at making a case for exceptional value at a moderate price.
Most markets continue to have room for companies who market premium value to higher income customers who are less sensitive to pricing. Those companies should employ a different kind of messaging focused on exceptional service and high-end products.
Let's look at nine different strategies that fuel companies can use to defy customer expectations and capture a greater share of the market in their regions.
Publish a convenient, attractive website. Fuel companies can pleasantly surprise customers by presenting themselves elegantly online. Whether you are targeting price shoppers or owners of luxury homes, you can publish a great looking website with a responsive design that makes it easy for customers to do business with you. Use an attractive, professional design and smart, concise copy that crystallizes your value proposition. Build in important convenience features like account lookup, online ordering and payment, an online rewards program, and management of options for payment and billing. Make it easy for customers to see those conveniences, and provide easy access to customer reviews.


Offer Online Price Protection. Some customers prefer to lock in a price or a price assurance, so it pays to offer an online price protection program that enables the customer to sign up on the spot. Look for an application like PriMedia's PricePoint, which allows customers to execute price protection contracts through the website.


Market Premium Fuels. American consumers are very well versed in the concept of premium products, and many of them are receptive to the idea — if not downright predisposed. When given the option of a better product that is supported by a well articulated value proposition, many customers are willing to pay more. In the heating oil marketplace, biodiesel blending and additives both offer premium sales opportunities. A marketer who makes a solid case for a fuel that is kinder to equipment and supports better performance can attract customers away from companies that sell non-premium fuel. The trick is to support the product effectively with branding, copy and videos, and promote it prominently on the site. You have to market your premium fuel to realize its full potential.


Promote Your Preferred Payment Mechanisms. Fuel delivery companies know how they want their cash to flow. A company that wants to speed cash flow and minimize late-season receivables can work proactively to shift customer payment choices by promoting budget plans and automated credit card and ACH payments. Increasing the rate of credit card payments means paying more credit card fees, but it can also accelerate cash flow in very helpful ways. Each company should identify its own priorities and support them accordingly. The best way to accelerate cash flow is to offer incentives for auto-payment.


Welcome All Payment Options. Millennials are fond of alternative payment options, such as digital wallets. It makes sense to set up your website to work with payment apps such as Venmo (part of PayPal) and Google Wallet. Once you are set up to take those options, market your payment flexibility on your website and in your ads so that customers who prefer alternative payment options can see that you are their kind of company.


Promote the Technology You Use. Customers prefer smart companies. Energy marketers who have adopted advanced technology should flaunt it and demonstrate that they are modern companies managed by smart people. This is particularly important for a full-service company that installs and maintains HVAC equipment. Homeowners rightfully expect modern equipment to include electronic controls and components, and they want it to be serviced by technicians and service managers who are fluent in electronics. If you want customers to entrust you with high-end equipment, mold your image accordingly to bolster their confidence.

Talk about remote monitors, real-time transmission of data from tanks and trucks, and instant updating of customer account records. You might think that those technologies only matter to you, but your decision to use those technologies sends strong subliminal messages that sit very well with demanding customers.


Develop creative service bundles. A funny thing about marketing is that everyone says they don't want companies marketing to them, and yet everyone responds to smart marketing. Companies should always be looking for good ideas about how to please customers. One technology that creates a lot of interesting opportunities is remote monitoring. If you are installing tank monitors at customer sites, think about creating value-added service packages. Oil & Energy last year wrote about a Pennsylvania propane company that offers a premium no-run-out service guarantee that includes tank monitoring, and it is very popular with customers. Other companies are expanding the concept of remote monitoring to include the use of water and indoor temperature sensors. These products can be combined in bundles with tank monitoring to create extended home protection packages that expand the relationship with the customer. Companies that sell heating oil and propane can also bundle dual-fuel services.


Build appreciation for your fuel. Companies that face the threat of customer loss to natural gas conversions can proactively market heating oil and encourage customers to compare Oilheat to natural gas. There are excellent arguments to make for heating oil, and marketers can make a strong case for why their customers are better off staying put. There are plenty of angles to choose from: cleanliness of emissions, readiness of supply (particularly after the move to Ultra Low Sulfur Heating Oil next year), and price. Also, when customers choose heating oil, they reduce the need for new natural gas pipelines, which can come with large tariffs for ratepayers. Heating oil companies are also local, independent and responsive.

Natural gas is not the media darling it was a few years ago, and the facts are pretty favorable for heating oil now. What's more, there is a ready stream of great information about the fuels from the American Energy Coalition, which is dedicated to helping oil dealers compete.


Talk About Your Community. Use your social media feeds, your emails and your newsletters to remind customers what a good neighbor you are. Many companies are strong supporters of their communities. Likewise, many customers prefer to choose companies that give back.


Fuel delivery is an important service, and companies that perform well and care for their communities can garner affection and loyalty. Cast your company in the positive light it deserves, and you'll see the results on your bottom line.
Great companies deserve great marketing. Please give me a call at 800-796-3342 or email me at rrutigliano@primediany.com to find out how PriMedia can help you attract more customers.